In my 2009 post, 'Get Adam Arnold to the top of Google', I documented the impact of different SEO techniques on the performance of my blog in the search engine results pages.
With particular reference to the search term 'Adam Arnold', this blog moved from a lowly spot on the 6th page of the Google SERPs to the top of the first page in a little over two months. It is fair to say I was over the moon with this result, given I knew next to nothing about search engine optimisation at the time.
Prior to running this experiment, I had no idea there were so many Adam Arnolds out there. If you glaze past ceo.smartergroup.biz in the search results you'll find an actor, Sky News reporter, comic book artist and fashion designer amongst others.
On the one hand it seems impressive that I managed to top the Google SERPs so quickly, however it must be noted that none of the competing sites (on 'Adam Arnold' searches) have anything to do with SEO. Sadly the same cannot be said in my latest quest, to top the pile for 'West Midlands SEO' Google searches.
'West Midlands SEO' as at 26th July 2011
A quick scout of the top 10 shows some familiar faces. Coffeeblack SEO and SEOitRIGHT are two very well established companies offering search engine optimisation and related services. It's fair to say it would be a monumental achievement to take their position, so I better get cracking.
The Smarter SEO website files are being uploaded at the moment and I'll be adding content over the coming week. I'll update this post again once SmarterSEO.biz has been indexed and appears somewhere on the Google SERPs.
In passing, I was quite surprised to see my previous post on Builders in Hagley (West Midlands) shows up on page 4! This gives me some hope that I may be able to jump straight into the first 5 pages of results.
'West Midlands SEO' as at 26th July 2011 (part 2)
This seems like a promising start:
'West Midlands SEO' as at 26th July 2011 (part 3 & a warning!)
I know that Google has a tendency to pick up on changes to my blog very quickly indeed, so I thought I'd run another search after posting the previous update.
At the time, I was logged into my Google+ account and here is the result: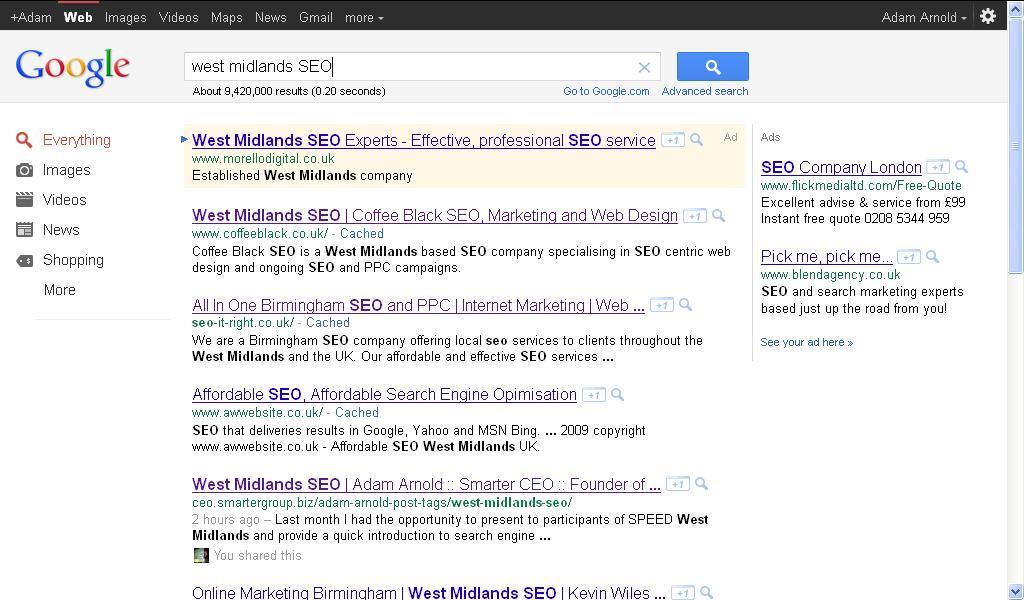 Remember, if you're trying to test the impact of content changes on your SERP performance, make sure you clear your cookies and cache (which will log you out of any Google accounts), or the results can be misleading!
'West Midlands SEO' as at 28th July 2011
This post has moved to the top of page 3 of Google searches for 'West Midlands SEO', although this is more of an observation than a result.
Ultimately, the goal is to place SmarterSEO.biz on the first page of Google for searches on 'West Midlands SEO'. With that in mind, it's time to build the website!
I've uploaded WordPress to the SmarterSEO.biz hosting and have created a holding page while I work on the main content. In the meantime, site visitors will see a copy of our Google Places listing.