My iPhone 4 is almost 2 years old and has been wrapped in a £3 silicone case since the day I got my hands on it. Before that, my iPhone 3G-S was housed in a similarly priced case that I found on Amazon. It should therefore come as no surprise that my iPhone 3G spent it's life inside a cheap bit of rubber.
Sadly, my current protection is looking a little worse for wear and I don't think it'll last until Autumn when the iPhone 5 is supposed to hit the shelves. A bit of Googling later and I came across a silicone case from shoe manufacturer, VANS:
I can't work out if it's called the VANS 'Off The Wall' or the VANS 'Waffle' case. Either way, it looks like I can't get my hands on it in the UK, which is a shame because it looks pretty cool.
Update – October 2012 – I've just had another look and the Vans Off The Wall case is now available in a range of colours on Amazon.co.uk. I was actually looking in relation to the iPhone 5 however no sign of that – yet. Should that change I'll put a note here -> [ ..]
If you found this thread looking for a review, I suggest you check out this video by YouTube reviewer, Larry Greenberg:
Video review of the VANS iPhone 4/4s silicone case:
If you're US based or have more patience than me, you can order the case on Amazon.com. I thought about ordering one but in the end, I've been my typical self and gone for another £3 case. That said, I think this one looks quite quirky and is in the style of an old cassette tape: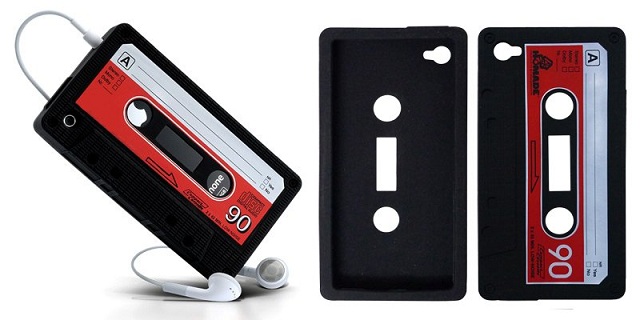 For anyone who is interested, you can get the retro cassette tape iPhone 4/4S case on Amazon.