This is certainly a case of do as I say and not as I do.  Last month, I set-up a website for the Parrot AR.Drone, with the intention of generating a steady affiliate income from sales of the drone and related accessories.
I'll be the first to admit the site isn't structured as well as it should be, however this is a result of a tweet from the official Parrot account, which brought a somewhat unexpected surge of traffic. I hadn't publicly commented on the site at that stage, so I can only assume Parrot monitor Google for AR.Drone related activity and in doing so located my tutorials page.
Not long after, traffic started arriving from Google searches. After the initial Google bump, traffic averaged out at 300 unique hits per day, where it stayed for a week until I played around with page tags. After I passed 500 hits per day I thought I would experiment with some automatic content generation.
Now I know full well that, further to the Panda update, scraped content is heavily penalised by Google. However, the plug-in I decided to use effectively re-wrote any text so I assumed Google would treat it as unique.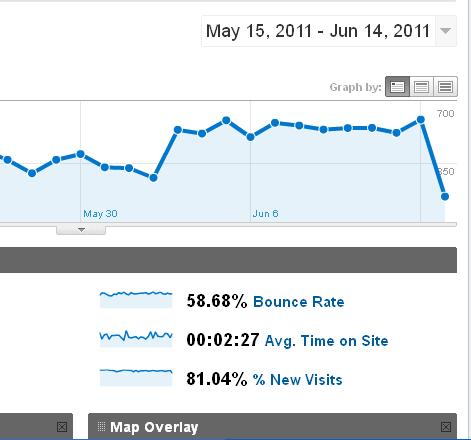 As you can see from the above snapshot of my Google Analytics page, this experimental SEO has backfired massively*! The Parrot-ARDrone.com vanished from the first page of the Google SERPs overnight, having a massive impact on traffic.
Thankfully, it isn't all bad news. This Google search shows that the site hasn't been de-indexed so the situation can be rectified. I have a few ideas in mind which I shall try to implement them over the weekend and I'll be sure to post again once the problem is fixed.
At this point you may be questioning why, as someone offers SEO consultancy (in the West Midlands), I am disclosing this SEO disaster. Maintaining a portfolio of websites not only gives me the opportunity to earn a consistent affiliate income, it also enables me to experiment with SEO techniques without putting any clients at risk. Obviously, when I find something that works well I can transfer the knowledge into my SEO consultancy business, Smarter SEO.
In passing, you may note the Parrot site shows a bounce rate of nearly 60%. For an ordinary website this would be very alarming, however for an affiliate site I am trying to get people to leave as quickly as possible and make a purchase through another site, such as Amazon or eBay. I'll revist this in more detail in a later post.
Edit:
* Now that I've uploaded this post, I am starting to question whether or not this problem is related to automated content. Checking Google Webmaster Tools for any errors, I noticed that I have picked up nearly 5,000 backlinks from a site called digimoe.com. I've never heard of digimoe and a quick look suggests it is some kind of content farm. All of the backlinks are to the same page on my AR.Drone website and I now suspect I am being penalised for this. I'll open up a dialogue with Google and see how that pans out. I've also contacted the digimoe.com web master and asked that the links are removed!