Priya Tew is an experienced dietitian and nutrition professional, with a degree in Nutritional Sciences and a Masters in Dietetics. Her company, Dietitian UK, was chosen as a Small Business Sunday winner by Theo Paphitis on 8th January, 2012. This is her #sbs SEO freebie!
Looking for more information on Small Business Sunday (#sbs)? Click here for details of how to enter and the benefits of being chosen by Theo Paphitis. Read this post for an explanation of why I provide free SEO for #sbs winners.
Hi Priya,
Firstly, a very belated congratulations for your Small Business Sunday win in January!
I've had a good look at your website and I am very pleased to report it is built using WordPress, an open source platform which is very powerful from an seo (search engine optimisation) perspective.  Before I get into the proposed changes for your website, please allow me to provide an introduction to SEO:
Search Engine Optimisation: a simple overview
Industry professionals would like you to believe that SEO is magical skill-set possessed only by a select few. Far from it: everything you need to know about search engine optimisation can be found, free of charge, on the internet. If you're struggling for bed-time reading, you can't go wrong with Google's own SEO starter kit.
In short, SEO concerns the way in which you manage three aspects of your on-line presence:
1) On-site SEO
– this covers all of your content, such as meta data (page titles & page descriptions), the use of text, internal/external links, photos, videos and maps.
2) Website Code
– typically, website code will either help or hinder your on-site SEO. As you will see in a moment, WordPress is pretty much set-up as standard and allows you to make alterations to your core code without any programming knowledge.
3) Off-site SEO
– essentially, this covers links back to your website from elsewhere on the internet, including social media profiles, directories, forums and blogs. Interaction on blogs is often overlooked and can be a very powerful form of off-site SEO.
#sbs SEO review for Dietitian UK 
Below, I have listed three areas of your website which need attention with an explanation of what needs to be done. All three would be considered "on-site SEO" but thanks to WordPress, you don't need to do any coding.
I have chosen these three areas as I feel they will have the biggest impact on your search engine performance.
1. Generate a sitemap.xml file
A sitemap is critical file for search engines. At a glance, they can see the structure of your website along with details of when your content was updated, which helps to determine whether or not anything needs to be indexed. Without one, you are less likely to be indexed on a regular basis although it is still possible.
Generating a sitemap file in WordPress is simple. Log-in to your admin area and you will see a tab called "Plugins" about half way down the left hand side of the screen. Click on "Plugins" and then "Add new". You will then be presented with a search box.
Enter the term "Google XML sitemap" and then click to install. Please note that in the image below, the text reads "update now" as I already have the plug-in running on my blog.
Once you have installed the Google XML Sitemap generator, you will be prompted to activate the plug-in. You can either click on "activate" or navigate to Settings > XML – Sitemap on the left hand menu bar. Either way, you will then be asked to run the sitemap generator for the first time.
In terms of settings, the generator is pretty much good to go, however I suggest you scroll down to the option relating to update frequencies and ensure these are set correctly. Don't be tempted into setting values that over-estimate how often you update your content!
You only need to do this once. From now on, your sitemap file will be updated whenever you add/remove/edit content on your website.
Whilst it isn't essential, I always advise people sign up for a free Google Webmaster Tools account and follow the on-screen prompts to register their sitemap. It's worth checking your account every now and again to ensure there are no problems with your sitemap files.
2. Populate your meta data
Meta Data gives search engines a better understanding of the content on any of your website's posts or pages. However, meta data is not purely for the benefit of search engines: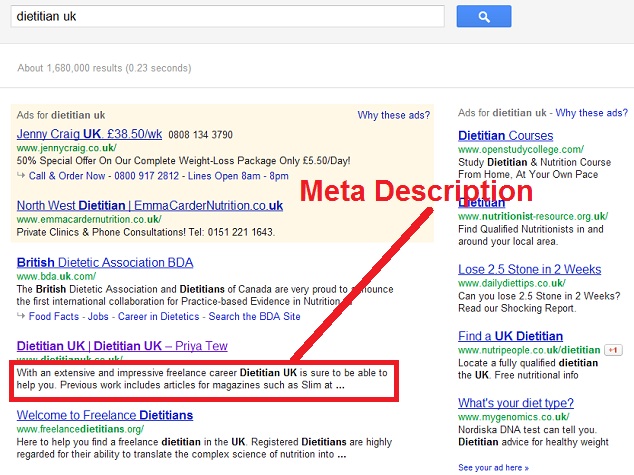 In the image above, I have circled a section of text which can be customised by filling out your meta data (namely the meta description). A well written summary can encourage a search engine user (i.e. a human!) to click on your link as opposed to any of those that surround it.
Customising meta data in WordPress is nice and easy. First of all, you need to install the All in One SEO pack by naviagating to plugins>add new. As with the sitemap generator, search for "All In One SEO pack", click install and then activate.
Once done, you should see the following boxes appear on your posts/pages, when logged into wp-admin:
In the event you can't see these options, click on "screen options" which can be found in the top right hand corner.

Once the menu has expanded, tick "All In One SEO pack" and your title, description and keyword boxes will appear.

Meta Title
99.9% of the time, you can leave the "Title" box blank.
Your page title should be between 50 and 70 characters and WordPress will generate this automatically by combining the name of the post/page you are working on with the name of your website. If you want to change this, navigate to settings>All In One SEO and look at the options for "post title format" and "page title format". Feel free to play around as if you break anything (very unlikely), you can click a button to restore all the defaults.
Meta Description
This is the most important box and you need to fill this in for all of your existing pages as well as any you create in future. The key is to write a concise summary of the content on any given page, using no more than 160 characters of text. You need to consider the fact you are writing for two audiences: a computer, that will want to see a good distribution of keywords; and a human, who may choose to click on your link as opposed to others if you write something appealing.
It is important to take time when writing your meta description as it can have a huge impact when done correctly.
Meta Keywords
Keywords aren't as important as they were a couple of years ago but there's no need to stop using them just yet. Aim for 10 to 30 keywords, separated by commas, with your most used terms towards the beginning. For example you could start everything with "Dietitian, Priya Tew" and then the broad keywords for your website. Follow these with specific keywords which relate to the page or post you are editing.
In passing….
I notice you already have Yoast SEO installed on your website but couldn't find anything to suggest it has been used. With this in mind, I would suggest clicking "plugins" on the left hand side menu, scrolling down to "Yoast" and clicking on "deactivate".
3. Add more images/improve existing images
Images are a great way to improve your search engine performance:  they can improve the ranking of any page/post for a particular keyword, as well as provide an alternate form of search engine traffic (Image Search). To extract full value from your images, be sure to name them correctly.
As it stands, you don't really have any images in the main areas of your website, so I suggest you try and get hold of some. For example, your Individual Consultations page could benefit from a photo of you giving a 1 to 1 session.
Ideally, images should be given names between 50 and 70 characters in length. I prefer to name all of my site images with the same prefix, to ensure consistency across the site, for example:
[Company Name] – [Short Description] – [Something about the image].jpeg
Should you choose to add an image to your Individual Consultations page the file could be named as follows:
Dietitian UK – Priya Tew – Individual Consultation.jpeg
You could go on to add additional artwork for eating disorders, weight loss and so on. Obviously, you don't want to flood your pages with images but you will benefit from uploading at least one per page.
Once you have addressed your main pages, I'd suggest working through older blog posts.
~~~~~~~~~~~~~~~~~~~~~~~~~~~~~~~~~~~~~~~~~~~~~~
When it comes to SEO you can never guarantee results (as your competitors could start doing the above), however I would expect to see the above changes result in more search engine traffic, more enquiries and more sales.
Should you get stuck with any of the above, please feel free to get in touch!
Kind regards,
Adam