It's been almost four months since my iPhone last forced me to Google something. On that occasion I ended up posting how to move iPhone / iPad contacts from one address book to another, in which I talked about Speed Names – a 59p 69p app that solved my problem.
At the time, the developers of Speed Name hadn't mentioned the fact you could use it to move contacts between different address books and exchange servers.  However, I've just checked their iTunes listing (UK / US) and it seems the description was revised when the latest patch was posted.
Managing e-mail attachments in iOS4

Today's puzzle surrounds the way attachments, particularly images and video, are handled by the iOS4 e-mail client. If you're viewing an e-mail which contains photos, you can bring up a prompt to save one or all of them to the Camera Roll by holding one finger on any image. However, doing the same thing with a video attachment brought me to this prompt: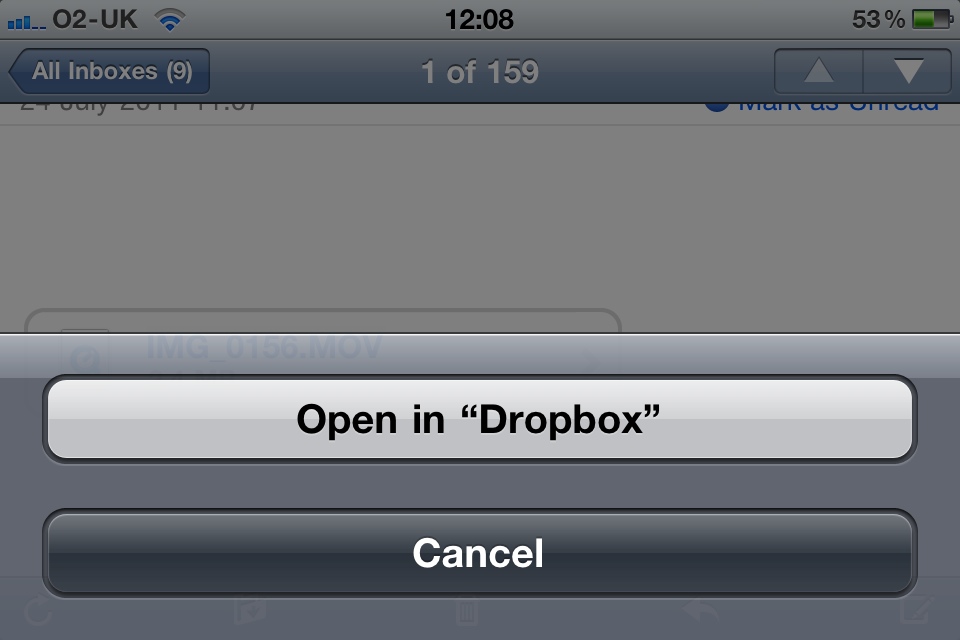 Obviously, I didn't fancy removing the Dropbox app so I tried a few other screen strokes to see if there was another way.
Turning to Google, I could find numerous people asking how to save video attachments in iOS4 but none of the threads had been resolved.  Moving my search to the App Store, I found Downloads – Download Manager (UK / US) which boasts a function to save video files to the iPhone's Camera Roll.
From what I could gather, Downloads – Download Manager would have required me to use webmail as opposed to the native iOS e-mail client. For reasons I cannot quite fathom, I then went to forward the e-mail (this is completely unnecessary as my webmail would be viewing the same mail as the iOS4 client) and inadvertently stumbled upon the solution.
Saving video attachments in iOS4 native e-mail client
Nestled alongside 'reply' and 'forward' was the option to save the video attachment. So it turns out saving videos from your iPhone or iPad e-mail is relatively simple – although I do wonder why Apple felt the need to make the process different from that of saving image attachments.