This is a follow up to a previous post regarding Ricky Dhillon, entitled "Back to business – a lesson in due diligence".
Some apologies
#1: I refer to Rajinderpal Singh Dhillon / Ricky Dhillon by his full name throughout this entry. This is for SEO purposes.
#2: I refer to myself, where as this actually involved a limited company. This is to make the article easier to read.
Rajinderpal Singh Dhillon
Ricky Dhillon was introduced to me as a property developer and subsequently instructed me to let properties which he did not own.
When Ricky Dhillon fell upon hard times, I took out a bank loan to assist in the completion of some of his "developments". I even loaned him £500, so that he could save face and join a group of Leamington based businessmen on a short trip to Spain.
Ricky Dhillon chose to return the above favours by disclosing he was not the owner of the majority of properties I had let on his behalf.  Furthermore, Ricky Dhillon would make no attempt to repay any of the money involved.
Thankfully, I managed to recover all but £7,400 from the actual owners of the properties. The outstanding amount was all down to one Landlord and a couple of properties on Heathcote Road in Whitnash, Leamington Spa.
An innocent Landlord caught in the middle
In an effort to recover the sums involved, I sent Ricky Dhillon a summary of expenses on "his" properties. For the Heathcote Road properties, Ricky Dhillon sent the invoices to the actual owner, claiming he had incurred the expenses.
By the time I managed to track down the Landlord, he had already given Ricky Dhillon a cheque for full amount I had spent on his properties.
The way I looked at it, the Landlord was all square, I was down £7k and Ricky Dhillon was up by the same amount. I considered taking him to Court but I got the impression he wouldn't pay up even if I won, so I opted against the idea. It turns out my suspicions were correct.
The Court Case
Skip forward twelve months. I receive a County Court Claim from Rajinderpal Singh Dhillon, seeking £10,000 without any documentation to support the figures.
The claim was submitted whilst I was on a family holiday and a judgement has been entered by default. This is quickly overturned and I enter a counter-claim.
Skip forward another three years and the matter finally comes to trial. I am awarded a judgement against Rajinderpal Singh Dhillon, with a hearing set to assess the costs, which were in the region of £26,000.
In the end, I settled for a fraction of the total amount because Ricky Dhillon said he would plead poverty at the costs hearing and I didn't really fancy collecting £20 a week for the rest of my life. By taking the settlement I could put the matter to bed.
A wise man learns from the mistakes of others, a fool from his own
My dealings with Ricky Dhillon taught me a valuable lesson – always do your due diligence! I shared my experience along with freely available information, from newspapers, County Court records and the Land Registry, in the hope I could help those wise folk that choose to do their research.
Another 18 months down the line, I received the following letter: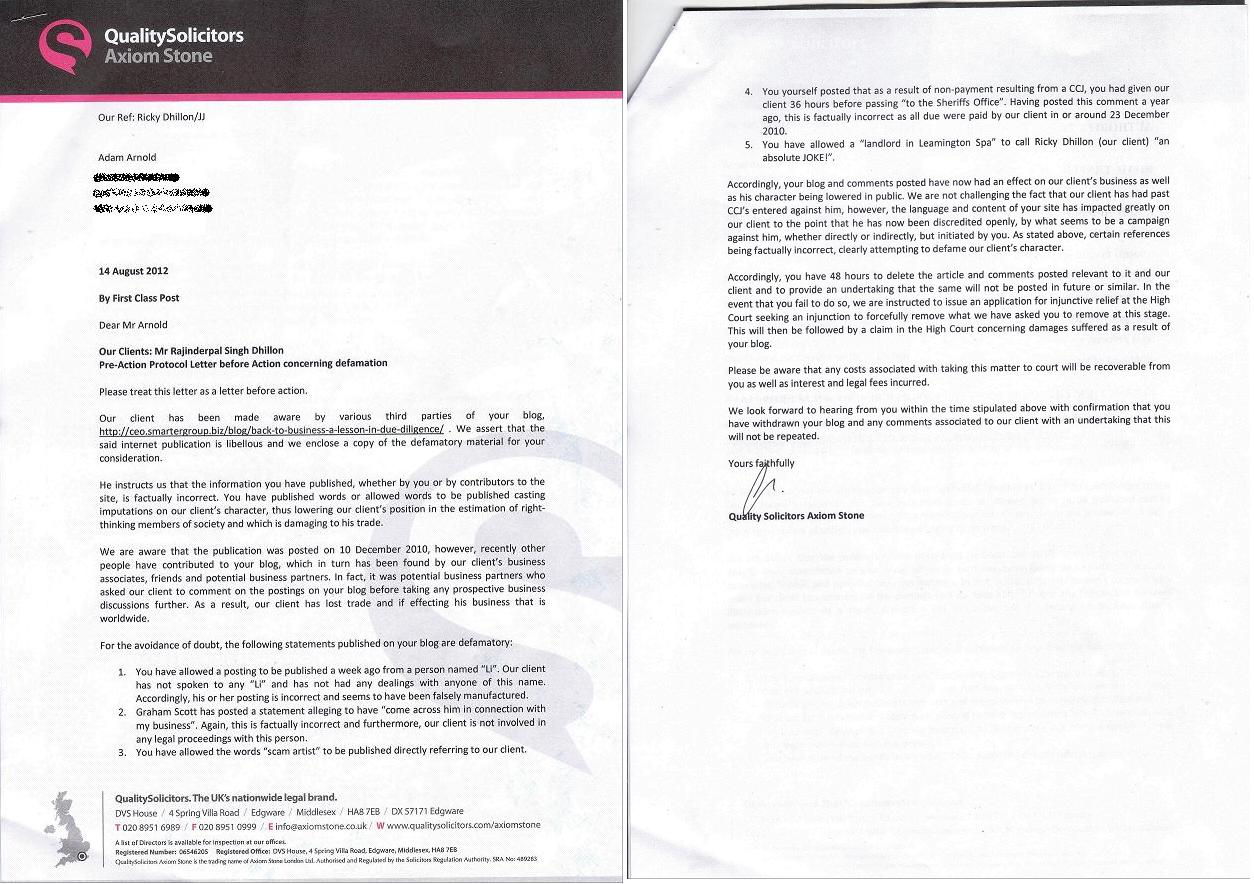 Despite the fact my entry on Ricky Dhillon is completely factual, he is now claiming defamation of character. Madness.
I think this entry should sum up my intentions but the floor is, as always, open to comments and suggestions.