At the time of writing, I am involved in a dispute with Talk Talk business over a simple billing issue, dating back to the point when they were instructed to upgrade a dial-up connection to a faster DSL service. Rather than upgrade the existing account, Talk Talk opened a new one and kept billing me for the original service.
As documented in this post, Talk Talk have acknowledged that a number of customers were affected in the same way and they are extremely sorry for the inconvenience caused. Joanna Sontowski, from Talk Talk's High Level Resolutions Team, has e-mailed me on three separate occasions confirming she must refund all dial-up charged from the date DSL was activated to resolve the issue.
Despite written confirmation that Talk Talk understand the amount owed to me, they are persisting with a much lower offer and at one point threatened me with legal action if I continued to publicise ongoing events. For now, I will continue to document Talk Talk's shocking customer service.
A quick search of the internet and it is clear I am far from alone. Amongst hundreds of complaints from angry customers, I stumbled upon a report from OFCOM, which compares Talk Talk to other high profile internet service providers: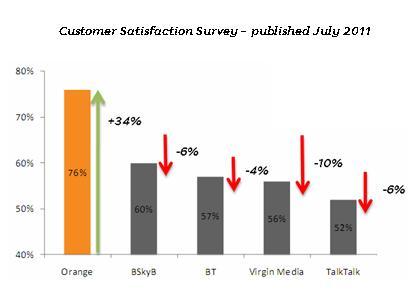 BitterWallet offer an excellent summary of the results:
"It takes a special kind of effort for almost a quarter of your customers to be dissatisfied with your level of service, so it's hats off to TalkTalk, who have been awarded that dubious honour in a poll of landline and broadband consumers."
Talk Talk's appalling performance in OFCOM's report doesn't surprise me and this isn't just because of recent correspondence. Through my involvement with Smarter Housing I dealt with all of the major ISPs to ensure our portfolio of student properties had internet connectivity. Handling more than 100 accounts I experienced problems with all of the major players but Talk Talk have redefined what I consider to be bad customer service.
Based on personal experience I always thought Virgin Media offered the best combination of price, internet speed and customer service – especially in terms of student broadband.
In any case, credit must go to Orange, who have seen massive increases in levels of customer satisfaction. Right now they are offering unlimited broadband for £10 per month, which is pretty competitive even when you take line rental into consideration.