For reasons I still haven't really talked about, I took a 24 month break from just about everything. This includes work (hence the demise of Smarter Housing), play and everything inbetween.
Learn how to get the best deal on MaxiMuscle products – Maximuscle vs Tesco & ASDA
In a nutshell, I lost the plot as a result of hugely restricted access to my son after getting divorced. Whilst I never got to the point of hiring a Spiderman suit and climbing Big Ben, I can see why people are pushed to such extremes. The law in this country is frankly ridiculous when it comes to protecting a Father's right to see his children.  Anyway, that rant will have to wait for another day.
When Smarter Housing ceased trading last year it made me realise what is important in life and this prompted a much needed turnaround in my state of mind. Since then, I have been getting my life back to where it was a few years ago – enjoying success in the business world and having a load of fun in the process.
So, to the subject of this post – I have started using the gym again as I try to rebuild at least 2 and a half stone of muscle that has vanished in the past few years. It would be wrong for me to claim I was ever "built" but I certainly wasn't skinny 🙂
Maximuscle Size & Strength PROGAIN / Maximuscle High Protein PROMAX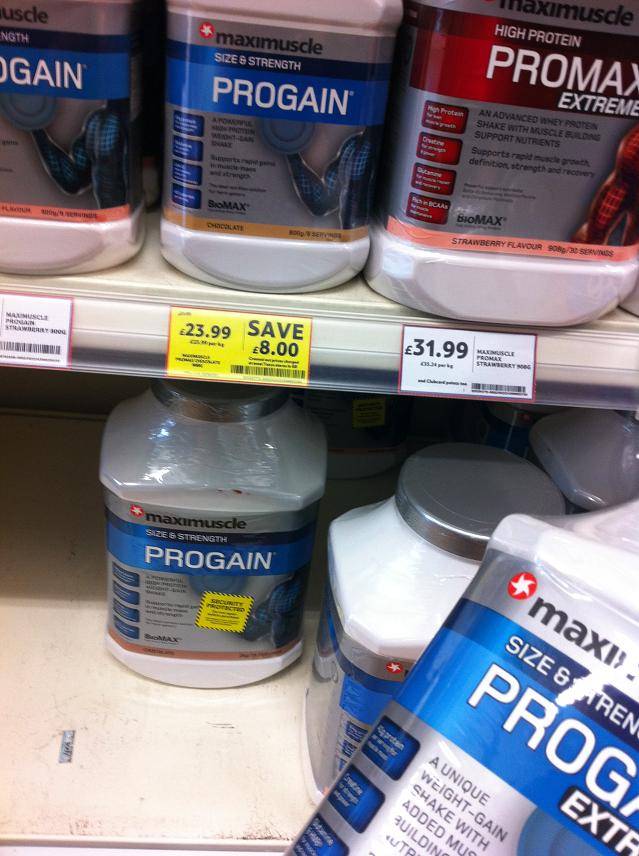 I'm not going to get into the science behind either of these products, however it is safe to say they compliment a weights programme. For the time being, I am limiting myself to 2 protein shakes per day (morning and night) and 2 servings of creatine (1 before & 1 after the gym).
The last time I bought this stuff, it was just under £40 for the smallest tub. Not cheap, when you consider it's only supposed to last a week! I'd heard that my local Tesco had started selling supplements so I went to take a look.
Hidden upstairs along with all of the electronics is a small "fitness" aisle. I was pretty chuffed to find the large Maximuscle size & strength PROGAIN available for under £40. I'm going to guess this one will last me 3 weeks, maybe 4 if I'm lucky.
I did a quick check to make sure the deal was as good as I thought – and yes – Tesco is cheaper than other suppliers, even ASDA.
UPDATE: I now buy all of my MaxiMuscle directly, via Maxi Shop. At the time of this update (January 2013) I am using a combination of ProMAX, Cyclone, MaxiPower & RecoverMax.