On 8th December this year, the 'new new' Twitter was released. For the most part this was an improvement over the 'new' Twitter, which hit our screens back in April.
How to add/remove users to/from a Twitter list (iOS / mobile app)
Managing lists via Twitter.com is easy: just click on the silhouette icon and you will be presented with a list of options, one of which is "add or remove from lists". As you can see in the image below, doing so via Twitter for iOS or the Twitter mobile app doesn't give you the same set of options: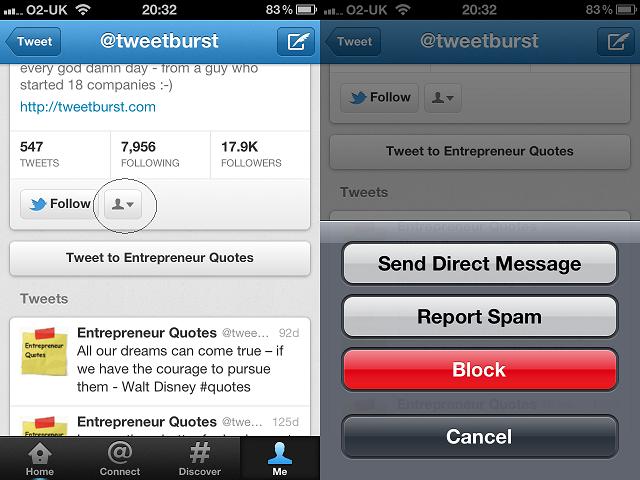 If you dig a little deeper you will notice a new menu dedicated to lists although I can assure you there is no way to manage them from here either.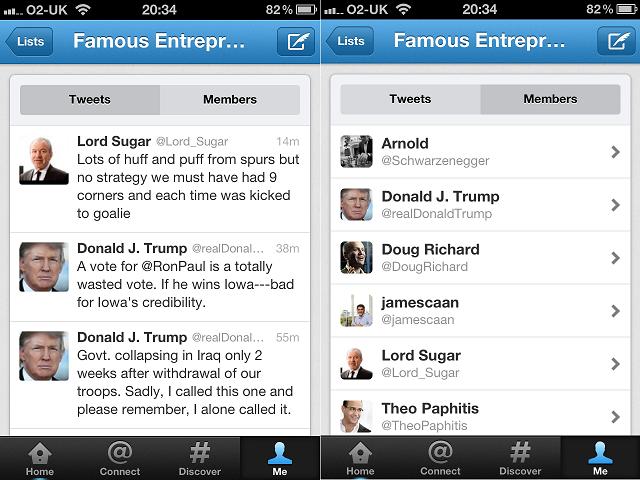 After 5 minutes of searching through the 'new new' Twitter for iOS, I turned to Google. A couple of searches didn't provide anything of use so I ended up contacting Twitter support.
Within 24 hours they came back to me with the following:

Sorry, but that feature is not available in the current version of the Twitter for iPhone app. To learn more about what's in the latest version, please see this article in our Mobile Help Center:

http://support.twitter.com/articles/20169500

If you'd like to submit feedback on the new app, please send a Tweet to @Feedback with the hashtag #newlook (example: "@feedback, I'm confused about X in the #newlook") or use our feedback form: http://support.twitter.com/forms/feedback
So there you have it: if you want to add or remove users to or from lists, you need to visit Twitter.com. Should you want the feature to make a return,  you need to Tweet your request!
The removal of the ability to manage lists via Twitter's mobile applications has caused me quite a headache.
Why can't you manage lists from a computer?
I could but this scuppers my attempt to limit my time on Facebook, Twitter, LinkedIn or Google+ to a few minutes each morning and night via their respective iOS apps.  If I allow myself to log-in via a computer my productivity tends to zero as I find myself checking multiple browser tabs every couple of minutes.
Do you *really* need lists?
When I first joined Twitter I signed up to a third party application which would follow people who were talking about subjects that interest me, such as gadgets, gaming, property and SEO/CRO/SEM.  I also ticked the "auto follow back" feature which Twitter had in place until the summer of 2009. I then left my account for a good twelve months and when I returned, I found myself following in excess of 10,000 people.
When your'e following this number of people the Twitter timeline is completely useless. Thankfully, Twitter introduced lists and I have been using those ever since to keep up to date with some 400 or so people that I actually want to follow.
Mass unfollow, sponsored by Twitter
My dilemma, therefore, is how to I continue to make use of Twitter when I have no means of managing my lists? For a couple of days I tried following new people via the mobile app, then e-mailing myself a reminder to add them to a particular list when I got to a computer. This became tiresome very quickly indeed!
With no obvious alternative, I decided (several beers down), to go through my follower list and delete anyone who was clearly spamming or inactive. This took longer than I thought: I'm guessing about 10 hours in total.
Whilst this was a massive hassle, I'm glad I took the time to clear out the trash: my timeline no longer refreshes every 0.01 seconds. Towards the end I got a little haphazard with my button pressing, so if you think I unfollowed you by mistake (i.e. you're not a spammer or inactive), please feel free to Tweet me @SmarterCEO.
If you do, please be polite :0) A man in Arkansas (he doesn't even deserve a mention by name!) has been sending what he considers abuse for the past 48 hours. If you feel the need to send virtual death threats when someone unfollows you, I suspect you should get out more. #justsayin'