Were you looking for information on Call of Duty: Black Ops 2? Click the banner below to find out the best way to get your copy on 13th November 2012 as well as in depth information on perks, classes, kills treaks, point streaks and weapons.
The details for Call of Duty: Modern Warfare 3 (Hardened Edition) were announced at COD: XP on 3rd September. I don't recall there being any mention of limited availability or a requirement to place your pre-order before a certain date, however Activision have just sent out the following e-mail: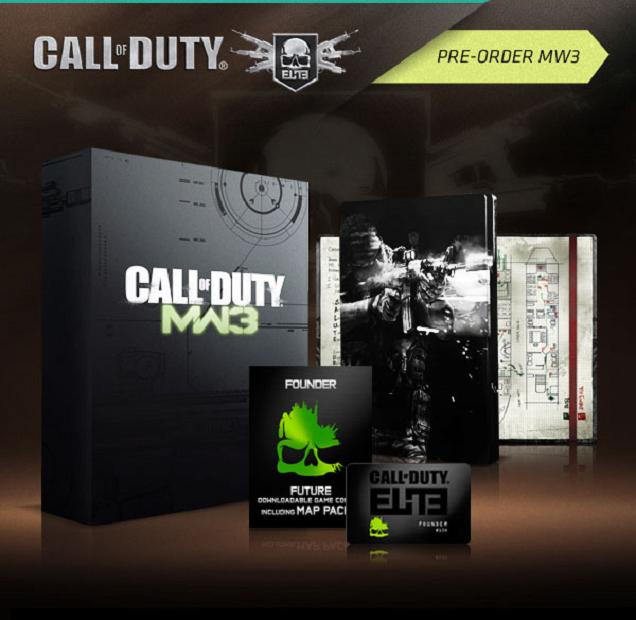 Last Chance: Get the exclusive COD: MW3 Hardened Edition Now!

MW3 + Call of Duty Elite + Founder Status

Boasting multiplayer maps, memberships, in-game unlockables, and a one-of-a-kind book bound by Call of Duty Modern Warfare's untold secrets, the "Hardened Edition" is the definitive experience for the Call of Duty fan. The MW3 Hardened Edition includes a 1-Year Call of Duty Elite membership and Founder status.

What's Included

Call of Duty® MW3 Game Disc, Featuring Unique Disc Art

1-Year Call of Duty® Elite Membership – Includes Future Call of Duty® MW3 Downloadable Game Content, Including Maps

Special Founder Status on Call of Duty Elite – Includes Exclusive In-Game Emblem, Playercard, Weapon Camouflage, Clan XP Boost, and More Exclusive Benefits

Premium Collectible Steelbook™ Case

Exclusive Special Ops Juggernaut Xbox LIVE® Outfit or Exclusive PlayStation®Network Animated Timeline Theme

Limited Edition Collectible Field Journal that chronicles the entire saga with 100+ pages of authentic military sketches, diagrams and written entries.

More on COD: MW3 founder status

Unique Founder Weapon Camo & Profile Skin
Exclusive Founder In-game Player Card & Emblem
Access to the Private "#Founder" Group
Special Founder Clan XP Boost
Special Founder Operations, Events & Leagues
Exclusive Founder Prizes & Experiences
It is quite possible this is just an effort to boost sales, for which pre-orders have already broken box office records.  In any case, you have been warned!