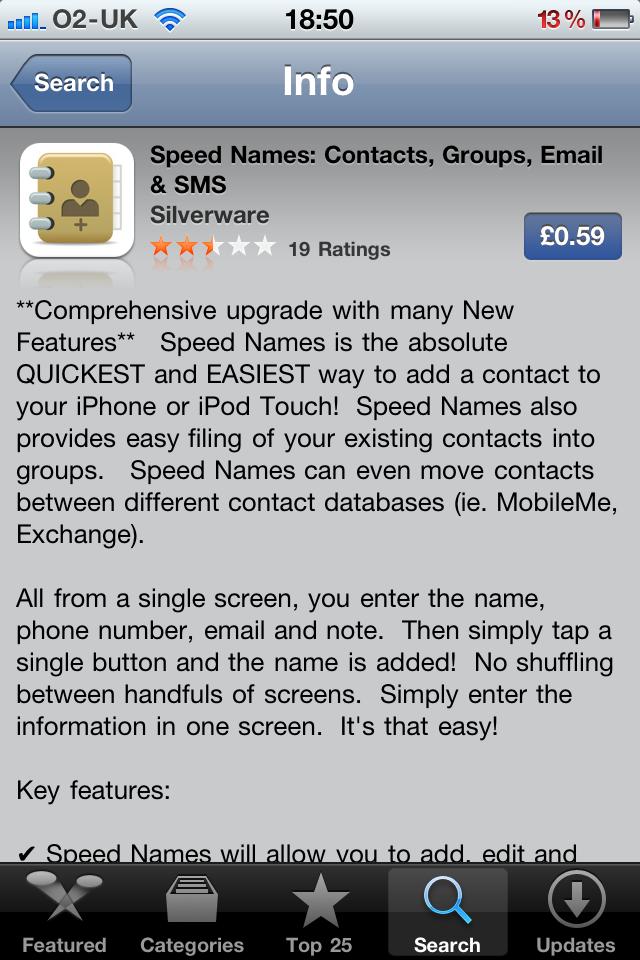 Earlier this year I signed up to Google Apps as it allows me to synchronise business e-mail, contacts and appointments across multiple computers. If anyone is interested I can do a separate post on the full benefits of this but to ensure this entry remains on topic I shall simply say this saves me hours every week.
As a consequence of using Google Apps my iPhone has an additional address book – 'Smarter Group'.  If I add anything into Google Contacts this is synced to my iPhone and vice versa. The 'On my iPhone' address book is reserved for friends and family and this brings me to the point of my post.
DOWNLOAD SPEED NAMES ON ITUNES
UK | US
Without realising, I had been adding personal contacts to my Smarter Group address book. Clutter isn't really an issue but I don't want other people in the business having access to private numbers, so I tried to move the contacts into the correct group and quickly realised this is impossible on the iPhone and iPad.
After some research I found an App called Speed Names and the following is quoted from Silverware Software's website: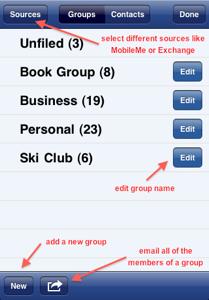 Speed Names is the quickest way to add a contact to your iPhone or iPod Touch.

All from a single screen, you enter the name, phone number, email and note. Then simply tap a single button to have that name added.

No shuffling between handfuls of screens. Simply enter the information in one screen.

Speed Name will even allow you to add, edit and delete groups for your Contact list.

Speed Name also provides easy filing of your existing contacts in to groups. You can choose which group to display the contacts for, even allowing you to display all the unfiled items in a list.
What they don't seem to highlight is the fact Speed Names can be used to do something the iPhone and iPad cannot: transfer contacts between one group and another.
As an added complication, if you want to add a new contact to a particular group you have to make sure you add it from within said group, otherwise it will be added to whichever is set as your default. Why is this a problem? Take the case where my default group is 'On my iPhone' and I receive a call from a new business contact. If I go to this number and select 'add to contacts' it will be added to my iPhone group and not my Smarter Group address book. My default address book is set to 'Smarter Group' which is why I had been accumulating personal numbers and e-mail addresses in my business contact list.
I'm sure Apple will release an update in future which will allow you to create contact groups or transfer contacts between them. In the meantime, if you're running any kind of Microsoft Exchange server to sync contacts to your iPhone or iPad then Speed Names is the only solution that I could find.
Speed Names is available on iTunes
UK App Store | US App Store
For reference, I have included below a video showing how to sync contacts to your iPhone or iPad if you're not running Microsoft Exchange.