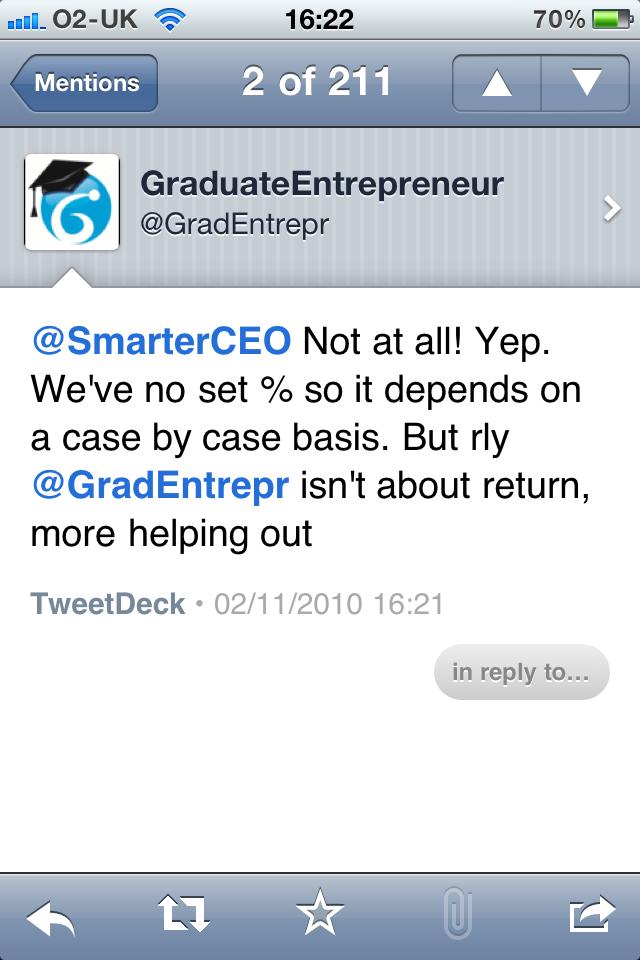 EDIT: 19th September, 2012 – it looks as though this scheme is no longer operating. If I find out any more I will update this entry, however in the meantime I have removed all links to Graduate Entrepreneur as their website is no longer there. This little update also gives me an opportunity to plug Speed Plus, who offer start-up support to students in the West Midlands. For more information please visit their website.
When I started Smarter Housing I was lucky enough to get a place on the Enterprise Fellowship Scheme. The hot desking facility gave me some workable office space, the bookable boardroom meant prospective clients would be given an excellent first impression of my "premises" and being surrounded by other graduate entrepreneurs generated a very positive atmosphere for all concerned.
I was one of the last few people to benefit from EFS at the University of Warwick as the scheme was closed due to a lack of funding. This is a huge shame because access to all of the above, alongside mentoring and funding opportunities, gives any start-up owner the ability to focus on the important aspects of running a business i.e. selling their product or service and generating a long term income.
It therefore gives me great pleasure to see that Justin Whitson is pouring his own money into Graduate Entrepreneur. In their own words:
Offering graduates with an entrepreneurial spirit a real opportunity to build a successful business.

Our investment programme provides everything you need to get your business off the ground. We will guide you, fund you and even provide free accommodation whilst you work from our state-of-the-art centre in Leeds. Your business is only an application away.
I would recommend any recent graduates who are starting a business get in touch, as the scheme looks like EFS with additional bells and whistles. Win-win!