In the last week or so, you may have noticed something unusual in your Google Analytics account. If you're not sure, go to the Google Analytics Dashboard, locate your "Traffic Sources Overview" and then click on "view report".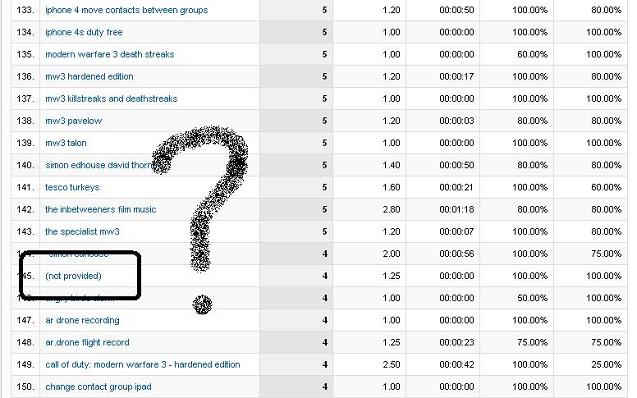 Google Analytics > Traffic Sources Overview > Keyword (Not Provided)
This "new feature" has arisen as a consequence of Google's SSL update, which encrypts search data for users who are logged into a Google Account. For the time being, this only applies to searches made via Google.com.
In terms of impact, the image above shows "(not provided)" accounts for only 4 of circa 6,000 people who have visited my blog this month. That is to say that only 0.06% of users have landed on ceo.smartergroup.biz after conducting a Google.com search whilst logged into their Google Account.
As with any Google release, the SSL update will no doubt end up on Google.co.uk and the rest of the Google network before too long. Obviously this means the amount of search data replaced with "(not provided)" will increase over time however I would be surprised if this number exceeds 10%.
"(not provided)" – a matter of privacy?
Google say the SSL update will increase privacy for those with Google Accounts. However:
–  there  is no way for a Google Analytics user to establish the identity of the individual site visitors. In other words, search data is already anonymous; and
– Search data will only be replaced with "(not provided)" for visitors who have arrived via natural search listings. If a user has landed on your site through a paid listing, the search engine query will still appear in your Google Analytics account.
Effectively, Google is saying search data is going to be restricted, unless you start paying for it. As a result, the Google SSL update has caused uproar in the search engine community with some SEO professionals spelling out doom and gloom for the industry. Despite this, I remain optimistic about the future of search engine optimisation, as a means of generating enquiries for your products or services, and conversion rate optimisation (CRO), as a means of monetising said interest.
Google SSL update: good for business
Without doubt, this is a commercial decision. On the one hand, Google is going to see more people signing up for Google accounts so they can take advantage of the "improved privacy" it permits. On the other hand, Google is going to see additional sign ups for Google Adsense as website owners get caught up in the hype.
Consequently, Google will have more paying Adwords customers and additional opportunities to serve such links. From a business perspective, their decision makes complete sense – even if they have released it with misleading narrative.
New to Google Analytics?
In 2005, Google acquired Urchin on Demand and immediately made their $199 per month service free to use, under the guise of Google Analytics. The service remains free of charge, although Google has just launched a premium version (yours for an "undisclosed fee").
Ultimately, Google Analyitcs lets you know how much traffic you website gets on a daily basis and where this has come from (in terms of location, search engines, referrals, traffic by continent and so on).
For a more thorough guide, allow me to hand you over to Google themselves:
VIDEO
Need help with search engine optimisation? At Smarter SEO we offer training and support to help your business succeed online.