Last night I tweeted a link to this article, concerning an iPhone 4 modification offered by a Leeds based company called iPatch.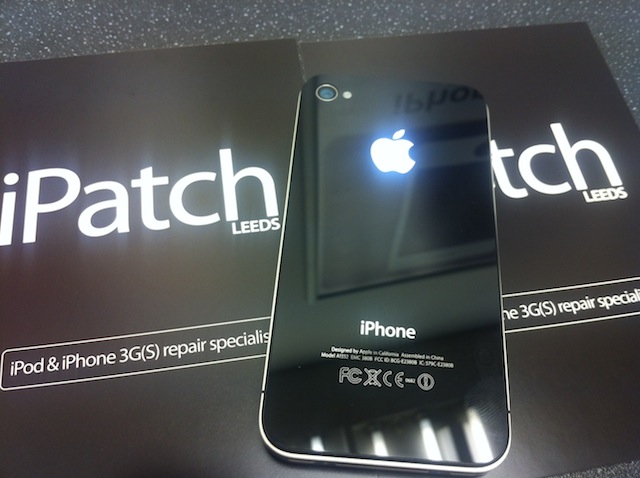 A number of people have asked me what is involved in the process, so my first port of call was the iPatch website, which provides the following details:
At this moment in time, the final design has been implemented and the mod is in the testing phase to eliminate any unforeseen issues and to generally road test the product for durability and safety. We expect to release the mod to the public before mid October, at an estimated price of £50 – £100 depending on mass production costs.
Furthermore, there is a list of frequently asked questions:
It has had no noticable drop in battery performance in day to day use;
It does not cause any heating of the rear case;
The light goes off when the screen goes off  (this means it will not glow when you are on a normal call and have the phone to your ear or have the phone on standby);
The light effect is an evenly distributed glow, much like the apple symbol on the rear of a MacBook lid;
It does illuminate when you receive a text or call, or when your alarm sounds; It does not cause any change in thickness to the phone or result in any light leakage around the frame;
The glass plate used is that from a standard iPhone 4 and is, therefore, available in black and white (or even custom colours if required); The colour of the apple logo can be changed by applying a colour filter and its intensity can be reduced by reducing the front LCD brightness;
There are other, currently classified, mods that may be possible too depending on testing;
Currently, when the light is off, the apple has a frosted glass appearance but this may change to reflective silver, if possible, to maintain the original look of the iPhone;
The camera function is completely unaffected either with or without flash;
Plans are to release an export franchise kit which will be available to trained repairers abroad;
It is by no means simple to replicate and would not be advisable to attempt without the expertise and knowledge of how the iPhone functions at a circuitry level;
Details of how to participate will be released in the future;
It will void any warranty with apple but the modification is fully reversible, returning the iPhone exactly back to how it was (at a smaller additional cost);
It will come with iPatch's standard 90 day warranty so if anything goes wrong, you are covered;
International orders are welcomed although please be aware of the delivery scale and costs; and
It looks, quite frankly, awesome!
Most of this information concerns functionality of the modification, as opposed to what is required, so I contacted the company via e-mail.
Andy Smith, iPatch founder and director, came back with:
I can't give you too many details other than that the kit would include the rear case assembly, light kit and instructions. The kit would require some experienced electrical work to fit and is far from easy.
In essence, the glow in the dark Apple logo is achieved by nothing more than a replacement rear shell which must be connected to the iPhone's battery.
iPatch Contact Details:
Telephone: 0113 246 9388
E-mail:  andy@ipatchonline.co.uk
Address: iPatch, Leeds Shopping Plaza, City Square Mall, Leeds, LS1 5ER.
Location map:
Update: a Portuguese company called iLoja has released the iPatch: (another) glowing Apple logo for your iPhone 4.