For anyone who hasn't seen Dave Gorman's Googlewhack, I have shamelessly included links to the DVD, book and audiotape, below. The show is hugely entertaining, if only because I can totally understand the random chain of events which led Dave Gorman on his Googlewhack adventure.
For those unfamiliar with the term, Googlewhacking is a game in which Googlewhackers attempt to find a Googlewhack. To play the game you simply enter two random words in the Google search engine and if you manage to produce one single result you have found a Googlewhack.
I have never played the Googlewhacking game however I thought I had stumbled upon a Googlewhack this morning. Unfortunately one of the game's few rules has done the preverbial on my bonfire, so I am still a Googlewhack virgin.
My alleged Googlewhack is as per the Google screenshot below: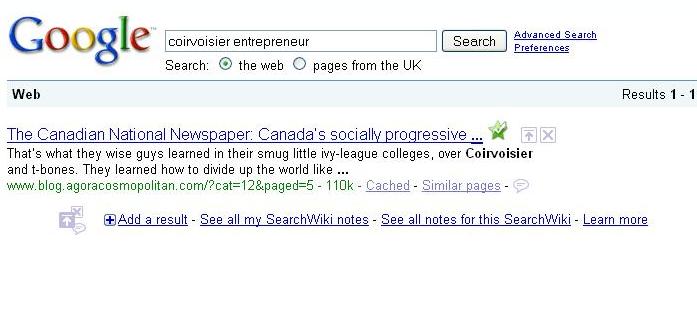 My shortcoming is due to the fact coirvoisier is not in the dictionary – as you would expect as it is (a) a brand name and (b) not the correct spelling (Courvoisier!). Rather frustratingly, my near miss has not only prompted this entry, but I am also fighting the temptation to embark on a Googlewhacking game of my own.
Posted by Adam Arnold
Related Blogs
Related Blogs on googlewhack
Related Blogs on googlewhacker