Were you looking for Angry Birds alarm clocks? Click here for further details.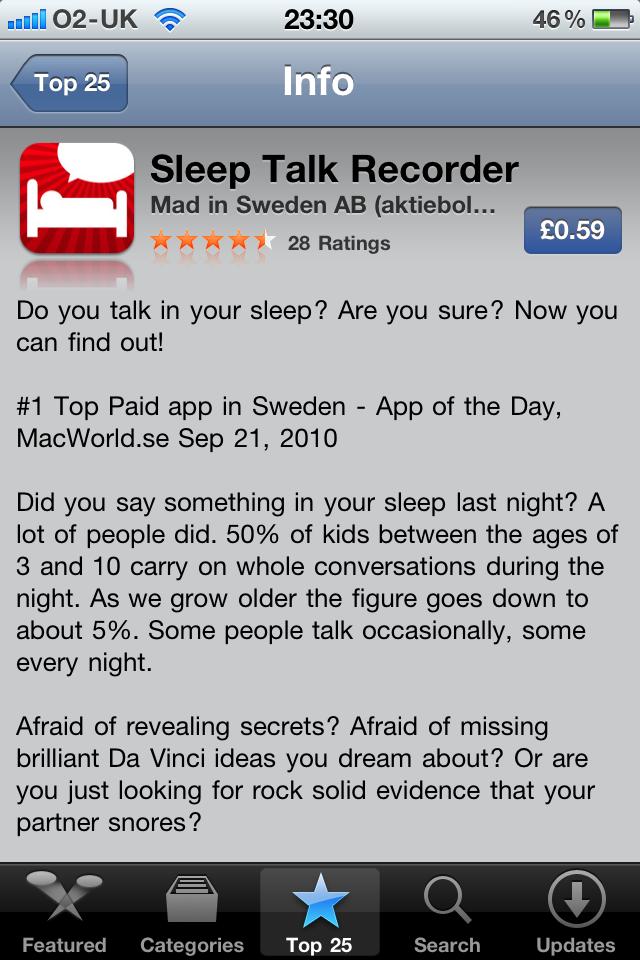 I was surprised to see that Angry Birds is no longer the number one paid application on the iTunes App Store; it has been ousted by a novel application from a Swedish company, called Sleep Talk Recorder.
The idea of the application is to capture the random things people say in their sleep. You set the application to record before you enter the land of nod and it will then activate each and every time you make some noise. In the morning you are then presented with a list of sound clips, meaning you don't have to listen to a whole night's recording to find the points of interest.
Unfortunately there is no way of telling whether or not this application will be of any great interest until you actually use it. Children tend to sleep talk more than adults but from the reviews on the App Store it is apparent many of us old folk have plenty to say in the night.
The only downside of Sleep Talk Recorder is that it doesn't support multi-tasking so sometimes it will crash if you use your iPhone as an Alarm. It also means you can't run Sleep Cycle but then that doesn't support multi-tasking either!
You can download [geo-in country="uk" note=""]Sleep Talk Recorder on iTunes[/geo-in] [geo-out country="uk" note=""]Sleep Talk Recorder on iTunes[/geo-out].