Update: deals & price comparison for your 2011 Christmas turkey can be found here. Featured deal – save 22% and get 10% cash back from Tesco (in association with QuidCo).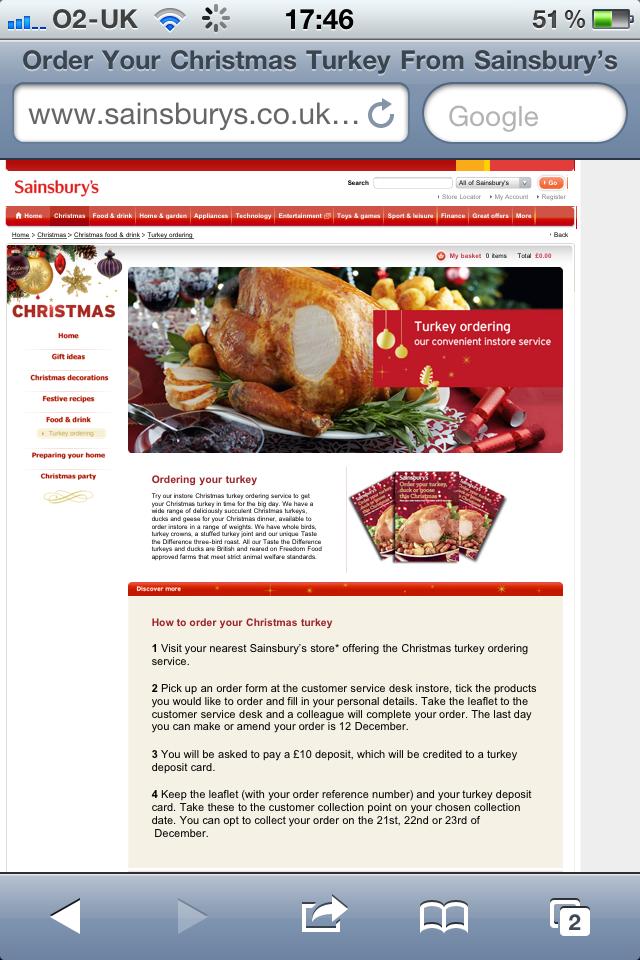 Following on from my first post Christmas Turkeys for sale at unbeatable prices, 2010 Christmas Turkeys for sale and, most recently, 2010 Christmas Turkeys Price List I realised I hadn't catered (in search engine terms) for people looking for turkeys specifically from Sainsbury's, Tescos, Morrisons, ASDA, Lidl and Aldi or any other supermarkets I can't recall off the top of my head.
This post should plug that SEO gap and allow me to stop dedicating my blog to Christmas turkeys, whilst highlighting the benefits of choosing Attwell's Farm over and above major supermarkets.
Since Sainsbury's and Tescos appear to be the only supermarkets using paid search to promote their range of Christmas turkeys I shall use them to illustrate my points, although I suspect they would be  valid for Morrisons, ASDA, Lidl and Aldi.
If you were considering ordering a Christmas turkey from Sainsbury's you may like to note there are 4 separate stages in the process, two of which require you to visit your local store. Furthermore, you have to order your turkey before 12th December in order to guarantee it will arrive in store before Christmas.
By comparison ordering from Attwell Farm requires only one step – place your order via their website. You can order up until 20th December and still be guaranteed home delivery by Christmas. Aside from the extra 8 days to order compared to Sainsbury's, you also save yourself two trips to the supermarket.
You might wonder why Sainsbury's feel the need to make this process so complicated. The answer is they don't have to; what they're actually doing is giving themselves two separate opportunities to up sell using in store promotions. While you might only go in for a turkey you may well come out with various other Christmas items you had intended to purchase elsewhere!
Sainsbury's aren't alone in turning ordering Christmas turkey' into a complete fiasco. Tesco do give you the option of home delivery but before you can so much as browse their range of Christmas turkeys you need to register on their website. While Sainsbury's have two opportunities to up sell in store, Tesco prefer to bombard you with offers via e-mail right up until Christmas and I can assure you it won't stop there.
From a marketing perspective this behaviour is quite clever however if you're just looking for a Christmas turkey it will save you time, money and considerable effort by going directly to the supplier – Attwell Farm.  You're also supporting local business which in times like this is more important than at any time over the last 10-15 years.
2010 Christmas turkey prices
Order online with home delivery